KIDS DANCE PARTY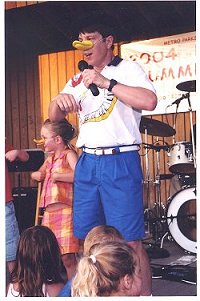 A live band playing the songs that kids and adults love to dance to. The activities include musical games and activities including such favorites as:

The Hokey Pokey
The Bunny Hop
The Alley Cat
Coke & Pepsi
Limbo
Huggy Bear
The Macarena
The Twist
Musical Jump Rope
The Chicken Dance
Musical Trivia Contest
And lots more...

Grammy award wining producer Dennis Scott serves as bandleader and host, clowning and kidding with the audience while guiding them through this fun filled assortment of interactive musical fun.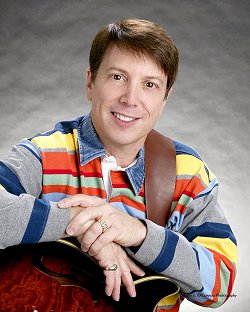 ---
STORYBOOK PARTY
Two-time Grammy award winner, Dennis Scott, hosts a one man show entitled STORYBOOK PARTY.

The show is a high energy musical revue of kids favorites as well as original songs, games and sing alongs. Dennis conducts the kids through a non-stop flurry of silly antics and fun with lots of audience participation. It's a celebration that embodies imagination and positive family values.

Dennis possesses a rare charismatic quality which captivates his young audiences. His songs have been recorded by such artists as Crystal Gayle, Ray Charles, Loretta Lynn, Faith Hill, Kathie Lee Gifford, and Jim Henson & The Muppets. His music has been featured on such shows as Sesame Street, ElmoPalooza, Guiding light, and Noddy. He is a recipient of an Emmy and The Parent Choice Awards.